MEXICO EXTREMO V2.1.10 1.35.X
V 2.1.12 mod for American Truck Simulator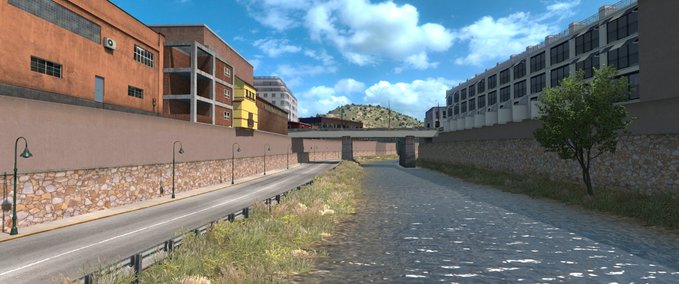 description
Changes in 2.1.10
Fixed all detected invisible walls
All detected bugs fixed
Changes in 2.1.9 from 06/28/19
-Fixed invisible wall on the bridge near the city of Mazatlan (Villa Unión)
-Fixed invisible wall in Canatlan repair shop
- Soil correction in the construction of a building in Vallarta
-Fixed floating grass in Tepic
-Fixing houseboats in Sombrerete.
-Fix traffic in tollbooth
-Fixed floating objects, such as lamps in the construction zone and in cities.
-Fixed traffic blocking in Durango (Durango)
-Fix traffic loss in Vallarta.
Changes in 2.1.9
-Map updated to version 1.35.x, which includes all updates, such as voice GPS, new visual effects, etc.
- The card works with DX11 (same as DX9)
-Main improvements in the landscaping of the states of Aguascalientes, Zacatecas and Durango, you really need to travel the roads again!
-Included new graphical improvements, such as improved reflection on asphalt, water, various use of textures, new textures from DLC Washington
-New custom models.
-New Mexican bridges, next to the real Mexican bridge, more realism, no crashing over bridges.
Reconstructed Durango-Mazatlan Highway with new bridges and landscape. The same route has been slightly optimized.
- General optimization of the entire project. in the main cities everything should be in order, and many difficult areas in the mountains will still work on a future version to optimize the map without losing quality.
-Fixed a bug where the police escort machine disappeared on a special route from Aguascalientes to Zacatecas
-Fixed a bug due to which you could not unload in the mine of Guanachevi.
-Fixed weather effect under bridges and tunnels, there is no more rain in the tunnels.
-Fixed some texts of road signs.
-New areas for sleeping and refueling.
-Better tracking and some improvements on highway 45, between Fresnillo Durango, see it again.
-Better traffic handling at specific points
-Functional car show Kenworth on the map.
-Correction of flying objects, holes and other small visual effects on the map.
-Roughness on asphalt general correction
-Fix several problems and errors recorded in the last 3 months.
-Main changes in the Mega Resources file for optimization, correction of signals, compatibility with any other mod (for example, C2C)
-Fixed Walbert prefab in Everett, WA
-Fixed some SCS characters (for example, wrong position, color of characters, etc.), There is no longer a replacement for SCS characters in the Mega Resources file.
-Fixed a hole in Yuma, in the Viva Mexico map file.
-Fixed map background in Viva Mexico and Mexico Extremo, so Washington state can be displayed with an inscription.
-Fixed some minor problems on the Mexico Extremo map, such as holes, invisible walls, water level error, -Overlapping trees, etc.
-More optimization in cities, especially in Parral.
NEW MEXICO DLC NEEDED
OREGON DLC NEEDED
Credits
Modell: Eblem Torres, Raul Martinez
Textur: Eblem Torres, Raul Martinez
Script: Eblem Torres, Raul Martinez
Idee / Konzept: Eblem Torres, Raul Martinez
Tester: Eblem Torres, Raul Martinez
Sonstige: Eblem Torres, Raul Martinez
changes
22 Apr 02:51

Version 2.1.12

[ATS] MEXICO EXTREMO V2.1.12 [1.37]

Mexico Extremo Map - Trucking in Mexico is never as straight forward as in the US. Experience windy and dangerous roads, questionable conditions, road blocks, speed bumps and the ever satisfying beauty of the Mexican landscape, all from the comfort of your home. New two states added, Aguascalientes and Nayarit, remodel of Durango state entirely, small portion added south of Chihuahua state, some upgrades made in Zacatecas. Special trasnport DLC support with 7 special transport cargo routes in map.
*Oregon, Washington, New Mexico DLC needed*

Features map Mexico Extremo:
- Special transport support (6 routes)
- Aguascalientes state added.
- Remodel of durango state entirely.
- New areas south of chihuahua state (rest of the state is WIP)
- New deliveir areas from oregon DLC assets (Oregon DLC needed)
- Remodel of extreme route in Canelas and Tamazula
- New remodel routes in Durango state, federal road 23, 45, 49 and state road 44.
- A maze! first in ATS, figurate out in Mapimi area called "Zona del Silencio"
- New urban and rural junctions in map
- 17 new cities and remodels in 2.1 "Aguascalientes".
New cities added

Changes in v2.1.12:
- Update for 1.37
- You need Oregon, Washington, New Mexico DLC for the map to work

Link 1 Map v2.1.12: https://sharemods.com/8d7e5e2ge78u/Reforma_MexicoExtremo_v2_1_12.scs.html

Link 2 Mega Resources 2.1.8: https://sharemods.com/dfr0h34ihtjq/Mega_Resources_v2_1_8.scs.html

09 Nov 21:59

Version 2.1.11 (all in one download)

MEXICO EXTREMO V2.1.11 [ALL IN ONE DOWNLOAD] 1.36.X

Changelog in 2.1.11
-Map updated to version 1.36.x for ATS
-Minor improvements for bug fixes in certain areas
-Mega resources package updated to 2.1.4

NEW MEXICO DLC NEEDED
OREGON DLC NEEDED

14 Sep 21:27

Version 2.1.10 (all in one download)
Files
Empfehlungsrate
-/-
noch nicht genug Stimmen
Do you think this mod should be featured?
V 2.1.11 (all in one download)
V 2.1.10 (all in one download)
}