Mexico Extremo Durango (VivaMexico mod) v.1.0
V Addon mod for American Truck Simulator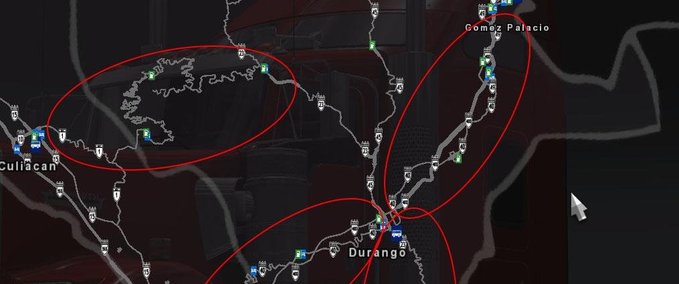 description
Mexico Extreme Durango (VivaMexico mod) v.1.0 for Ats 1.28.x game version
YOU NEED AS DEPENDENCY VIVA MEXICO V2.4 (DURANGO), located for free here:
Viva México Map 2.4 (DURANGO) [1.28.x]
Note from the Author (s):
Currently the map is so good,
(Nayarit or Zacatecas), or any other gaps or holes there,
by October or November this year. Probably next releases will only be available for a small donation,
including new prefabs, 3dmodels, scenery, etc ..
This is one of my favorite things to do.
The map of the world I've modified:
Durango Huazamota
This is a rugged road in the southern part of the state, built in 2013, this road
connects to Tepic, Nayarit. Currently there are problems with constant mudslides and potholes
in the area that can be dangerous for users. Hugo's original road in VivaMexico was not
accurate since he did not have pictures or reference for this area,
personally I have traveled in this road.
Durango-Mazatlan
The main changes made in this area it's mainly to the highway, whichever some more tunnels,
curves and improved drastically the environment around the toll highway, not many changes
I would love to go back to Mazatlan.
Durango-Torreón (or Gómez Palacio)
Since I live near this area IRL, I frequent this highway very often, what easy to do just by remembering
some pictures of reference, just impoved the visual around this highway,
flora, some few sharp curves, and tons of beautiful desert landscapes, Hugo original roadbeds in this area, just fixed.
Had to redo both routes, the toll route and free (route) route. Both with unique landscapes.
Sierra Madre roads (Santiago Papasquiaro-Canelas-Topia-Tamazula-Culiacán)
This is a very difficult road to traverse.
so you must be caution everywhere if you travel by this dangerous road, watch for the narcos,
or worst the steep grades and dizzy curves. Suggestion if you happen to drive the narrows,
keep your truck at the extreme edge to traverse the sharp curve otherwise you'll get stuck.
This drive it's full of surprises and fun to traverse.
So this will be a new series of mods called "Mexico Extremo", this is the Durango state edition,
next one will be for Chihuahua state. For a United States extreme edition, until SCS release Utah and Colorado,
I can do the engineer pass, bryce canyon, Zyon national park, so some fixed in Yoseemite (over the project west mod).
Credits
Modell: Jbte
Textur: Jbte
Script: Jbte
Idee / Konzept: Jbte
Tester: Jbte
Sonstige: Jbte
changes
16 Sep 01:42

Version Addon
images
Files
Empfehlungsrate
-/-
noch nicht genug Stimmen
Do you think this mod should be featured?
}