Real Company Box Trailers V2.4 [1.6.x]
V 2.4 mod for American Truck Simulator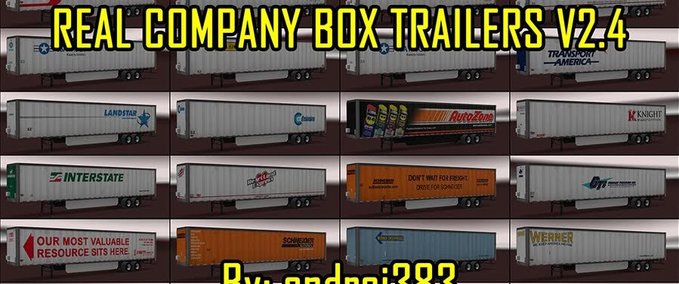 description
============== ============== Features
- Replaces the default box trailer skins
- 69 realistic, extensively researched trucking company liveries (+4 plain / fictional)
- Includes small details: such as warning decals, trailer numbers, and manufacturer decals
- upscaled textures (to 2048 × 2048) with aspect ratio corrections for higher detail and no texture stretching
- Adds additional cargo to the Appropriate trailers and all the trailers to AI traffic.
- Compatible with ATS 01.06 Including Advanced Trailer Coupling
============== New in V2.4 update ==============
-ATS 1.6 compatibility
-Updated UPS to UPS Freight (28 'Dry Van)
-Added car parts, electronic components, colors, gypsum, sawdust panels, and silica cargo to 28 'dry van
-Added Chemso, Coastline, Plaster, and Voltison companies to 28 'dry van
-Added XPO Logistics
-Added Central Freight Lines
-Added ABF Freight
-Added R + L Carriers
-Added dynamite, fireworks, nitrocellulose, and potassium cargo to 53 'dry van
-Added 53 'dry van ADR / hazmat variants
-Added AAT Carriers
-Added Ryder
-Added Tri State Motor Transit
-Added JB Hunt DCS
============== ============== Issues
1. Due to the new paintjob system Introduced in ATS 1.4, the rear of the 20/53 ft. Dry Van and 40/53 ft. Reefer trailers 3000R use the same texture.
2. Due to the mapping of the 53 ft. Reefer trailer 3000R, the decal placements may not be Exactly the same as the real trailer.
3. Several plain skins are included and may later be Replaced with other companies.
============== ============== installation
1. Delete any previous version of this mod.
2. Copy the "Real_Company_Box_Trailers_andrei383.scs" file into your American Truck Simulator mod folder.
3. Activate the mod in the ATS mod manager.
4. Increase the priority of the mod so did it has higher priority than other trailer mods.
============== ============== Donate
If you would like to support the continued development of this and other mods, please consider making a donation. You can donate via PayPal: paypal.me/andrei383
Credits
Modell: andrei383
Textur: andrei383
Script: andrei383
Idee / Konzept: andrei383
Tester: andrei383
Sonstige: andrei383
images
Files
Empfehlungsrate
-/-
noch nicht genug Stimmen
Do you think this mod should be featured?
}